Hornton Chamber Orchestra – Anton Bruckner's Symphony No. 4 – Romantic
Hornton Chamber Orchestra – Anton Bruckner's Symphony No. 4 – Romantic
Anton Bruckner (1824 – 1896)
Symphony No. 4 – Romantic
01.Bewegt, nicht zu schnell
02. Andante, quasi allegretto
03. Scherzo. Bewegt
04. Finale: Bewegt, doch nicht zu schnell
Programme (Wiki)
There exists much evidence that Bruckner had a program in mind for the Fourth Symphony. In a letter to conductor Hermann Levi of 8 December 1884, Bruckner wrote: "In the first movement after a full night's sleep the day is announced by the horn, 2nd movement song, 3rd movement hunting trio, musical entertainment of the hunters in the wood. There is a similar passage in a letter from the composer to Paul Heyse of 22 December 1890: "In the first movement of the "Romantic" Fourth Symphony the intention is to depict the horn that proclaims the day from the town hall! Then life goes on; in the Gesangsperiode [the second subject] the theme is the song of the great tit [a bird] Zizipe. 2nd movement: song, prayer, serenade. 3rd: hunt and in the Trio how a barrel-organ plays during the midday meal in the forest.
The autograph of the Scherzo and Finale of the 1878 version of the symphony contains markings such as Jagdthema (hunting theme), Tanzweise während der Mahlzeit auf der Jagd (dance tune during the lunch break while hunting) and Volksfest (people's festival). In addition to these clues that come directly from Bruckner, the musicologist Theodor Helm communicated a more detailed account reported via the composer's associate Bernhard Deubler: "Mediaeval city — Daybreak — Morning calls sound from the city towers — the gates open — On proud horses the knights burst out into the open, the magic of nature envelops them — forest murmurs — bird song — and so the Romantic picture develops further…
Versions
Since the 1930s Bruckner scholars have generally recognised three principal versions of the Fourth Symphony, but two of these exist in more than one form:
Version I: 1874
Version II: 1878–1886 (or, possibly, 1876–1886)
Version III: 1887–1888
At least seven authentic versions and revisions of the Fourth Symphony have been identified.
– – – – – – – – – – – – – – – – – – – – – – – – – – – – – – – – – – – – – – – – – – – –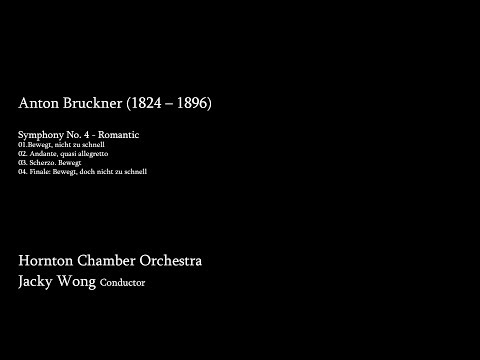 Performed by:: Hornton Chamber Orchestra
Conductor:: Jacky Wong
Date:: 21st May 2017
Location:: St Mary Magdalene, Anglican Church
Munster Square
NW1 3PH
London
Live Concert Video Production and Editing by ®©2017, PAVZO LTD
Live Performance Location:: St Mary Magdalene, Anglican Church, London
Production Date:: 21st May 2017
Project Management:: Pavel Badzhakov – PAVZO
Visual Graphics and Animation:: PAVZO LTD
Sound Recording and Audio Mix:: Waterhouse Sound
Contact Details::
PAVZO LTD, London
CHN:: 08210198
E:: hello@pavzo.com
M:: +44 7583 26 72 52
W:: http://www.pavzo.com
You can also visit my full photo gallery of the concerto in
my Facebook business page here::   Hornton Chamber Orchestra – Anton Bruckner
TAGS::
#pavzo #london #music #filming #classic #orchestra #multicam #editing #hornton #AntonBruckner #concert #livemusic #conductor #jackywong #classicalmusic #classicalconcert #liveconcert #lovemywork #lovemyjob #lovemusic #classicfm #HorntonChamberOrchestra #chamber #orchestra #hornton #symphony #romantic #StMaryMagdalene
pavzo, london, music, filming, classic, orchestra, multicam, multiple cameras, editing, Anton, Bruckner, concert, live music, london, conductor, jacky wong, recording, classical music, classical concert, live concert, love my work, love my job, love music, classic fm, romantic, symphony, St Mary Magdalene