It's A Woman's World – Fashion Film by PAVZO
It's A Woman's World – Fashion Film by PAVZO

Hello World,
I am so happy to reveal, at last, the full fashion film from my last photography/video
project – "It's A Woman's World" with the very special feature of the gorgeous Vogue cover model and a young business woman – Ivelina Choeva.
As you will probably recognize very easily, the location I picked for the shoot was the iconic
London's Shad Thames Str. with the Tower Bridge as our backdrop in the background…
It took a whole a lot of preparation – almost a month time in order to organize this project,
with all the help coming from my friends and colleagues (all 10 of them). To be honest – everyone I shared this idea with was so sceptical (about the weather and the location) so the first thing in mind was – forget about it – it will rain – we will need a permit etc…
Yet, for 23 years now, I've never had a single outdoor shoot cancelled because of the bad
weather – and this one was no exception again. Remembering now the smashing shoot
I had in the middle of Hyde Park with the twin models for the TOTO's (side project) music video – It was raining cats and dogs and the pictures (Oh, the pictures) – one of the most beautiful shots and film frames I've done so far in my career….
So, without further ado… I present you the latest fashion film "It's A Woman's World" and
the whole team behind it, who made all this possible! I hope you'll enjoy it, along with the very special music I've managed to pick edit and mix, especially for the project.
It's A Woman's World – Fashion Film by PAVZO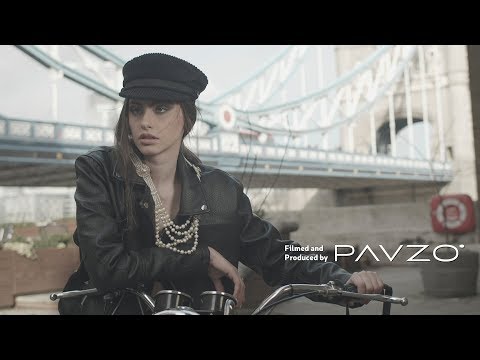 Fashion Photography and Film:: PAVZO ( PAVZO.COM )
Model:: Ivelina Choeva ( https://www.facebook.com/ivelina.choeva )
BTS and Tech Support:: Raw Gold Media (represented by Ogy Stoilov and Rumen Vasilev)
BTS and Lights Support:: Bojidar Chkorev
MUA:: Daniel Rachev
PA and Location Support:: Anna Walker
Huge support and a special THANKS to:: Ivo Ivanov and Plamena Koeva for all the help with the project and the smashing MotorBike was provided by Mark Phillips from @curiosity_moto ( https://www.curiositymoto.com )
Accessories and Jewellery by:: Police Diesel CoachNY Desigual Guess
Shoes by:: KarlLagerfeld @Addicted
Boots by:: Belstaff
Coat by:: Yva&Co
Bags by:: L&S, Have Best Hand, Steve Madden
Hats by:: Dan Mella, Maj Wear
Blouse:: Here And Now
Jeans:: Armani
Jackets:: Porter + Ash, 2nd Chapter
Copyright ©2019 PAVZO /PAVZO LTD, London/
All rights reserved. Unless otherwise indicated, all materials on these
pages are copyrighted. No part of these images, texts, work or videos
may be used for any purpose without explicit authorization from PAVZO LTD. Reproduction, modification, storage or archival of any work in any form or by any means, is strictly prohibited without prior written permission.
.
.
.
.
.
.
.
.
.
.
#pavzo #producer #director #london #film #photography #VOGUECoverModel #sexy #hot #video #ftv #fashiontv #fashionfilm #fashionshoot #CentralLondon #TowerBridge #TheATeam #photoshoot #setlife #editorial #womanswear #sexyvideo #4Kresolution #UHD #VogueMagazine #IvelinaChoeva #YvaAndCo #CuriosityMoto #KarlLagerfeld
#RAWGoldMedia #IvaChoevaModel #Belstaff #SteveMadden #Armani #PoliceLifeStyle
#Diesel #CoachNY #Guess #MarkPhillips
.
.
.
.
.
PAVZO, Producer, Director, London, Film, Photography, Vogue Magazine, Vogue Cover,
Sexy, Hot, FashionTV, Fashion Shoot, Fashion Film, Central London, Tower Bridge, The
A Team, Photoshoot, Set Life, Editorial, Womanswear, 4K resolution, UHD, Ivelina Choeva,
Yva And Co, Belstaff, Steve Madden, Armani, Police Life Style, Diesel, Coach New York, Guess, Mark Phillips
#pavzotv #pavzotvfashionchannel #pavzofashionchannel #pavzotvchannel
#biggestfashionvideochannelworld
pavzo tv, pavzo tv fashion channel, pavzo fashion channel, pavzo tv channel,
biggest fashion video channel in the world