It's A Woman's World – Fashion Film by PAVZO
It's A Woman's World – Fashion Film by PAVZO

Hello World,
I am so happy to reveal, at last, the full fashion film from my last photography/video
project – "It's A Woman's World" with the very special feature of the gorgeous Vogue cover model and a young business woman – Ivelina Choeva.
As you will probably recognize very easily, the location I picked for the shoot was the iconic
London's Shad Thames Str. with the Tower Bridge as our backdrop in the background…
It took a whole a lot of preparation – almost a month time in order to organize this project,
with all the help coming from my friends and colleagues (all 10 of them). To be honest – everyone I shared this idea with was so sceptical (about the weather and the location) so the first thing in mind was – forget about it – it will rain – we will need a permit etc…
Yet, for 23 years now, I've never had a single outdoor shoot cancelled because of the bad
weather – and this one was no exception again. Remembering now the smashing shoot
I had in the middle of Hyde Park with the twin models for the TOTO's (side project) music video – It was raining cats and dogs and the pictures (Oh, the pictures) – one of the most beautiful shots and film frames I've done so far in my career….
So, without further ado… I present you the latest fashion film "It's A Woman's World" and
the whole team behind it, who made all this possible! I hope you'll enjoy it, along with the very special music I've managed to pick edit and mix, especially for the project.
It's A Woman's World – Fashion Film by PAVZO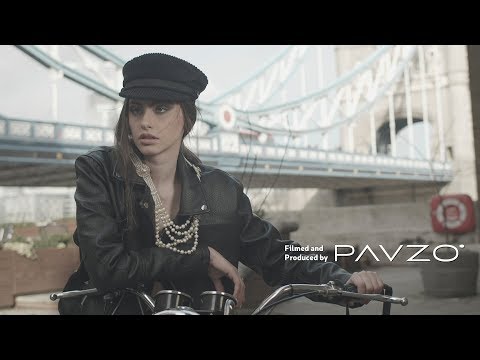 Fashion Photography and Film:: PAVZO ( PAVZO.COM )
Model:: Ivelina Choeva ( https://www.facebook.com/ivelina.choeva )
BTS and Tech Support:: Raw Gold Media (represented by Ogy Stoilov and Rumen Vasilev)
BTS and Lights Support:: Bojidar Chkorev
MUA:: Daniel Rachev
PA and Location Support:: Anna Walker
Huge support and a special THANKS to:: Ivo Ivanov and Plamena Koeva for all the help with the project and the smashing MotorBike was provided by Mark Phillips from @curiosity_moto ( https://www.curiositymoto.com )
Accessories and Jewellery by:: Police Diesel CoachNY Desigual Guess
Shoes by:: KarlLagerfeld @Addicted
Boots by:: Belstaff
Coat by:: Yva&Co
Bags by:: L&S, Have Best Hand, Steve Madden
Hats by:: Dan Mella, Maj Wear
Blouse:: Here And Now
Jeans:: Armani
Jackets:: Porter + Ash, 2nd Chapter
.
.
.
.
.
.
.
.
.
.
#pavzo #producer #director #london #film #photography #VOGUECoverModel #sexy #hot #video #ftv #fashiontv #fashionfilm #fashionshoot #CentralLondon #TowerBridge #TheATeam #photoshoot #setlife #editorial #womanswear #sexyvideo #4Kresolution #UHD #VogueMagazine #IvelinaChoeva #YvaAndCo #CuriosityMoto #KarlLagerfeld
#RAWGoldMedia #IvaChoevaModel #Belstaff #SteveMadden #Armani #PoliceLifeStyle
#Diesel #CoachNY #Guess #MarkPhillips
.
.
.
.
.
PAVZO, Producer, Director, London, Film, Photography, Vogue Magazine, Vogue Cover,
Sexy, Hot, FashionTV, Fashion Shoot, Fashion Film, Central London, Tower Bridge, The
A Team, Photoshoot, Set Life, Editorial, Womanswear, 4K resolution, UHD, Ivelina Choeva,
Yva And Co, Belstaff, Steve Madden, Armani, Police Life Style, Diesel, Coach New York, Guess, Mark Phillips