My Wimbledon 2017 – Day Three – 05 July 2017
Wimbledon 2017 – Day Three – 05 July 2017 – In Pursuit Of Greatness

There are times in your life that you just need to follow the energy.
Yesterday was one of these days. The best experience ever in my
tennis world. I play this game since age of four and I was introduced
to the big rackets epoxy stitches and slowly, slowly moving to my
first graphite one (which was a magic back then) and so on and so on…
A friend of mine invited me to the games – The Centre Court Experience
Wimbledon 2017 games, right! I accepted immediately and the rest is
the history which happens to be shot and filmed with my humble
Nokia. No massive cameras for me, no big lenses, no filming, no slo-motion
full shots whatsoever – just a the pure experience of some of the best
tennis players in the world,  performing their best shots just metres away
from you… A BLAST! A Wimbledon 2017 one!
For the STARTER it  was the smashing Aussie – Johanna Konta defeating the
GORGEOUS 20 somethin' Croatian Donna Vekic. I believe I was one of few
from the 15 000 people crowd to actually cheering and supporting Donna.
I don't care whether she was defeated – a massive GOOD JOB for you gal –
your time will come and simply remembering she's only 21 now… you see
where I am going, right!? Follow this beauty and remember my words – this
young lady will soon rock the tennis stage!
On top of that, the massive support of the audience didn't actually expect
the match to last that long as Konta was awesome and focused, but Donna
had some tricks and points out her sleeves as well… It was a great game indeed!
The MAIN COURSE was the obvious – Mr Andy Murray vs Dustin Brown.
Sadly, as much as I hate to say this, except for some really nice shots
here and there, and the probably "awesome" reviews and massive
font size front page articles with bombastic names etc. the game was
a slow one, both of them showed little to no interest of actually getting
involved at all… Yet, the news showed as it was supposed to show it 🙂
Britain defeated Germany… Ohhh, here's the next line about some classic
shit and of course something about the Brexit as well. There's no news if
there's nothing on the Brexit. Point. Sorry Andy.
The DESSERT!!! Here we come!!!
After some two games (both great in their own ways) the dessert was the
top of the hill and the cherry on the top of the pie, the exclamation mark
of any sentence possible to write down about the whole story. And what
a story it was…..
Mr. Rafael Nadal vs Donald Young – couple of minutes gameplay, some
slow attempts to getting to know each other and BAM! The most amazing
match of the day – suddenly it was all about the game. ALL!! You can't just
stay still, you scream and shout you clap and whistle you cry and point
fingers…. Such a drama and joy – all in one.
Despite the whole obvious support for Rafa my heart was with Mr. Young.
I have no idea whether this young lad is a human being at all as he was
literally everywhere – Nadal is serving – Young is there with a massive retour.
Nadal is playing down the line – Donald is there and returns the same with
even more complicated tactics and more power. It was A-M-A-Z-I-N-G!!!
FUCKING AMAZING!!! At some point the crowd was supporting Young and I was
finally happy to see them cheering up the least experienced one who was like
a black ninja – catching every single ball. E-V-E-R-Y SINGLE ONE!!!
Don't believe me – watch the replay of the game – see it with your own eyes.
Cheers to both of you guys! You made us better that day!
That's it. I am done and I will see you soon I guess. With more stories and
sharing LOVE AND GRATITUDE with all of you.
ENJOY the photos and the videos I made.
LOVE AND GRATITUTE
PAVZO
PS. If you want to follow what's happening on Wimbledons' Courts 2017
go ahead and click the links below and I will add some Insta feeds from
the players of the day as well.
Johanna Konta VS Donna Vekic
https://www.instagram.com/jokonta91/
https://www.instagram.com/donnavekic/
Mr Andy Murray VS Dustin Brown
https://www.instagram.com/andymurray/
https://www.instagram.com/dreddy_ja/
https://www.instagram.com/rafaelnadal/
https://www.instagram.com/donaldyoungjr/
https://www.instagram.com/wimbledon/
http://www.wimbledon.com/en_GB/about/in_pursuit_of_greatness.html
My Wimbledon Centre Court Experience – Day Three – 05 July 2017 – YouTube Playlist

https://www.youtube.com/playlist?list=PLuZkH4txJR1sHYDcnFF0Uyv26PP79QCmV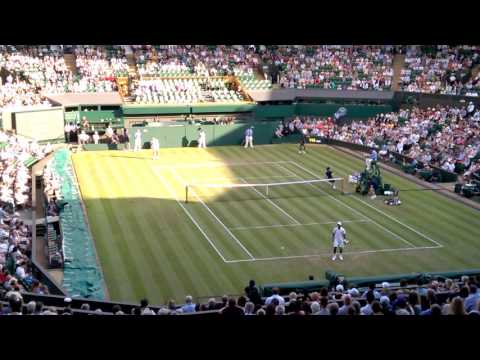 #pavzo #tennis #wimbledon #championship #london #2017 #sport #amazinggame #bestplayers #tournament #thewimbledonexperience #allenglandclub #DonnaVekic #JohannaKonta #CentreCourt #AndyMurray #RafaelNadal #DustinBrown
#DonaldYoung #matches #games #sets #amazingexperience #daythree #bestoftheworld #CentralCourtExperience #CentreCourt #racket #service #photos #photography #videography #video #film #inpursuitofgreatness