The Media Fight Night 2018 – Charity Boxing Show – Opening Video – 22 Nov 2018
The Media Fight Night 2018 – Charity Boxing Show – Opening Video – 22 Nov 2018
Welcome to the fourth Media Fight Night, in aid of The Head & Neck Cancer Foundation. Your support to date has helped HNCF to develop a National training programme for Sentinel Node Biopsy (SNB). SNB introduces a new, minimally invasive way of treating mouth cancer that reduces surgery by 70% with more information on what HNCF have been up to, will be revealed on the night.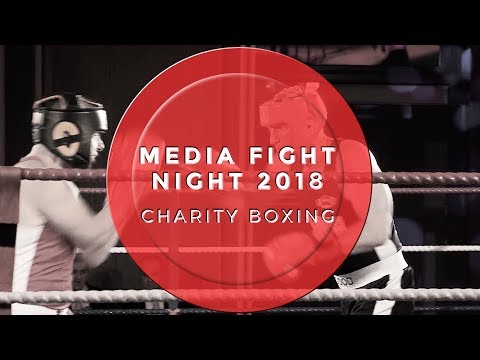 If you have attended the last three years then you will know, the event is a complete sell-out, the atmosphere electric with over 1,000 industry professionals cheering on their 'favourite' boxer, whether that be a friend or colleague. We are immensely grateful for those who have been brave enough to get in the ring and to everyone who has got behind the event, from sponsoring the night to attending, purchasing auction items or even buying a fortune cookie, we realise that without you this event would not be possible, thank you.
Should you wish you had taken part then now is your opportunity to get in touch, please contact us for more information.Fight Night
offers a range of fantastic opportunities for you to put your brand in front of the industry. There will be a range of sponsorship options still available, for more information contact Abbi Jeffery
The Fighters:
BOUT 1 – MATT BATCHELOR VS SEAN COX
BOUT 2 – PALOMA WALDER VS LEANNE CARTER
BOUT 3 – ANDREW KITCHEN VS DAMON LETZER
BOUT 4 – BEN MAHER VS TIM MCCABE
BOUT 5 – JOE EVEA VS MARTIN BROAD
BOUT 6 – WILL JONES VS NICK STEVENS
BOUT 7 – DANNY MAGUIRE VS BEN SMART
BOUT 8 – DAVE NEWTON VS DUNCAN MCCRUM
ORGANISERS
Crystal Events London
White Collar Boxing London
VENUE
Park Plaza
200 Westminster Bridge Rd
Lambeth, London SE1 7UT UK
SPONSORS
– Crystal Events
– Head and Neck Cancer Foundation
– The Telegraph
– Research Solutions
– SIX PHYSIO
– Mail METRO Media
– 1XL
– White Collar Boxing London
– Fitzroy Lodge
– NEWS UK
– ESIMEDIA
– DAZN
EVENT DETAILS
Start: 22nd November 2018 @ 6:30 pm End: 23rd November 2018 @ 1:30 am
Facebook page – https://www.facebook.com/mediafightnight/
Twitter page – https://twitter.com/mediafightnight
YouTube https://www.youtube.com/channel/UCDc6CbC1m0n26qoZmQXPo3A
HOW TO GET INVOLVED?
We are running our fourth Media Fight Night, with it being a complete sell out every year to date, the fights are watched by over 1,000 industry professionals all cheering on for their heroes to help raise money for The Head & Neck Cancer Foundation.
No previous boxing experience is needed and fitness assessments will be held this summer, in central London. All fighters will be matched according to height, weight and ability, and the fights themselves will be carefully monitored on the night to ensure all runs smoothly.
Should you be one of the successful candidates, you will be enrolled in a complimentary 15-week training course. If you would like to get involved in this years event, please get in touch with John Maloney for more information.
PAVZO LTD, London
CHN:: 08210198
E:: hello@pavzo.com
M:: +44 7583 26 72 52
W:: http://www.pavzo.com
I:: https://www.instagram.com/pavzo_
T:: https://twitter.com/PAVZO_
FB:: https://www.facebook.com/PAVZOLondon
V:: https://vimeo.com/pavzo
.
.
.
.
.
.
.
.
.
.
.
.
.
.
#PAVZO #PAVZOLTD #producer #london #filming #filmdirector #audiorecording #soundengineer #photography #videography #lovemywork #lifeonset #celebrityinterviews #photoshoot #profoto #corporate #events #testimonials #professionalservices #postproduction #documentaries #TVCommercials #EditorialPhotography #lights #FashionFilms #MusicEvents #internationalservices #localservices #mediafightboxing #boxingcharityshow
#pavzotv #pavzotvfashionchannel #pavzofashionchannel #pavzotvchannel
#biggestfashionvideochannelworld
pavzo tv, pavzo tv fashion channel, pavzo fashion channel, pavzo tv channel,
biggest fashion video channel in the world